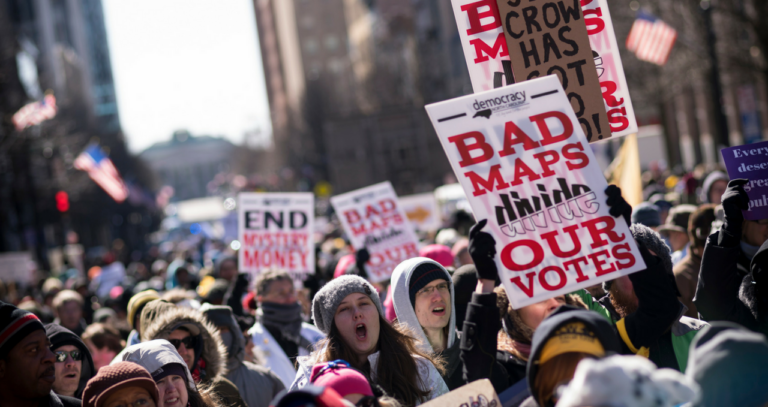 RALEIGH, N.C. (11.02.23) —  In a move that could have far-reaching implications for the state's political landscape, the North Carolina General Assembly passed new congressional and state legislative maps last week. These maps, drawn behind closed doors and without meaningful input from the public, have the potential to flip three or four U.S. House seats and solidify the current party's veto-proof majorities over state legislation.
When states redrew congressional maps following the 2020 census, North Carolina stood out as a success story, not because the maps were fair, but because the North Carolina Supreme Court ruled that drawing maps to entrench the party in power violated the state constitution. However, the recent redrawing of maps has once again been shrouded in secrecy, with little opportunity for public scrutiny or input from community stakeholders.
"These new maps are a shameless discriminatory gerrymander, surgically diluting the power of Black voters and cracking communities apart," said Cheryl Carter, Co-Executive Director of Democracy North Carolina. "They packed and cracked the state's most urban and diverse communities, diminishing the voting power of these areas – despite the fact that they've driven population growth over the past decade. Towns and communities are senselessly split for no other reason than to give politicians an unfair advantage."
The impact of gerrymandering goes beyond political representation. Voting districts that divide communities unfairly dilute their power to elect candidates of choice and limit their representation in both state and federal government. Rigged maps have the potential to erase years of progress in voting rights, civil rights, education, workers' rights, and healthcare.
The passage of these maps raises concerns about the lack of transparency and accountability in the redistricting process. Every person in North Carolina, regardless of age, class, or immigration status, will be affected by the new voting maps and should have the opportunity to engage in the process. The voices of communities must be heard, and their specific needs and interests should be taken into account when drawing district lines.
"Gerrymandering carves up our communities and serves politicians their re-elections on a silver platter," added Carter. "No matter our identity, background, or zip code, voters should choose their elected officials, not the other way around. Mapmakers should draw district lines that give our votes equal weight, not power lines that guarantee their reelection."
The fight for fair and equitable representation continues as power-hungry lawmakers push forward with their gerrymandered maps. The impact of these maps on the state's political landscape and the power of its voters cannot be underestimated. It is crucial that the public remains engaged and vigilant in holding elected officials accountable for their political actions, at the ballot box and beyond.
###
Democracy North Carolina is a statewide nonpartisan organization that uses research, organizing, and advocacy to strengthen democratic structures, build power among disenfranchised communities, and inspire confidence in a transformed political process that works for all.