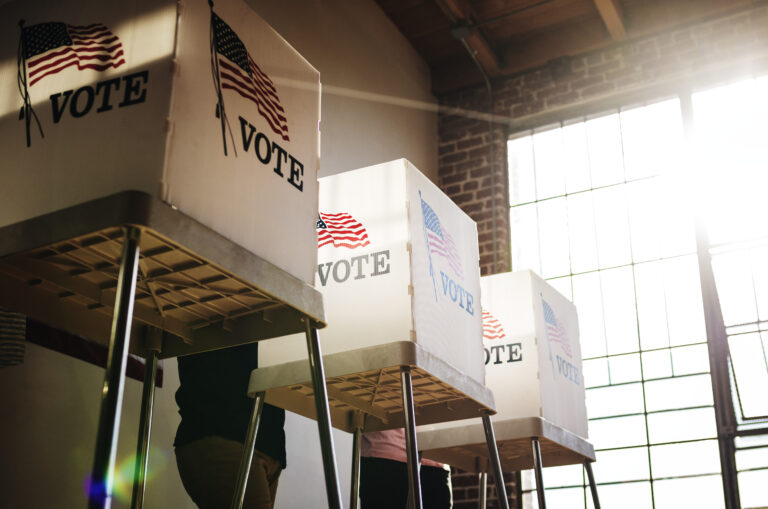 Morrisville, N.C. (5/18/2022) – In a critical election year for North Carolinians, voters returned to polling sites in droves throughout the primary season, with an early voting turnout rate nearly twice as high as 2018 and more than 1.4 million North Carolinians casting their vote in the 2022 Primary Election.
After an election surrounded by uncertainty in 2020, there was overall improvement in processes and access surrounding the 2022 primary, with fewer reports of challenges for voters. But concerns remain around voter intimidation as well as misinformation and disinformation persisting regarding the safety and veracity of our voting systems.
Democracy NC will be reviewing preliminary data throughout the week (everything except provisional and cured ballots). Some initial data points of note*:
Based on unofficial results, 1.4 million North Carolinians cast their ballots this spring (out of 7.3 million registered voters), compared to 957,627 in the 2018 Primary, when North Carolinians voted on constitutional amendments.
580,477 North Carolinians voted prior to Election Day, for a pre-Election Day turnout rate of 8%. Early voter/absentee turnout ahead of the 2018 primary was 295,268, a rate of 4.27%.
4,893 North Carolinians used Same Day Registration during the Early Voting period – compared to 3,619 total in the 2018 Primary – more than half of whom were registrants of color. Same Day Registration is a critical tool that helps expand participation and inclusivity for all voters.
More than 21,000 voters cast their ballots by mail, 0.38% of all registered North Carolinians.
85 ballots had to be cured prior to Election Day, 18 in Wake County alone, with the next highest number (14) in Cumberland County (learn more about the curing process here).
Ahead of Election Day, more than 1,500 unaffiliated ballots were cast, with the remaining early 500,000+ ballots cast as either Republican or Democratic. Guilford County led in unaffiliated voter ballots, with 413 cast, compared to 168 and 151 in Wake and Durham Counties, respectively.
*These numbers will not be finalized until the statewide post-election canvass, expected on May 27, to ensure all votes have been counted correctly and required audits have been completed. Those interested in being part of the canvassing process can learn more at demnc.co/electionsadvocate.
Democracy North Carolina owns and operates the nonpartisan voter hotline, 888-OUR-VOTE, where callers may ask questions or report voting problems. The organization hosted an escalation team throughout the Early Voting process and Election Day to monitor any concerns and questions that came in from voters across the state. They received around 150 calls, a significant decrease from the 2020 General Election due to overall lower turnout and less confusion around mailing voting. Continued challenges for voters included:
Issues with voting machines in at least one county, with voters having to leave and return to vote
Concerns around access to polling sites, including challenges using curbside voting and construction/traffic blocking voters from the sites
Reports of voters receiving materials by mail that included the wrong polling site information
Reports of voters' updated information at the DMV not translating to the State Board of Elections
It's clear many of the early voting, mail in voting, provisional ballot, and general processes are still confusing to voters, and that in some cases bad actors are taking advantage of – or at the very least, benefiting from – that confusion to attempt to block North Carolinians' ballots.
"Throughout the spring we have continued to monitor disturbing reports of election intimidation across North Carolina," said Cheryl Carter, Co-Executive Director of Democracy North Carolina. "We heard about intimidation of voters as well as those running for office, as we saw recently in Siler City and Chatham County, where candidates of color received threats during their campaigns.
Looking ahead to the November election – and with the North Carolina General Assembly returning to Raleigh this week  – it will be imperative to monitor any further attempts to intimidate or willfully confuse voters through both misinformation and disinformation, whether it comes from individuals or groups on the ground or those dictating the laws in our state."
###
Democracy North Carolina is a nonpartisan organization that uses research, organizing, and advocacy to strengthen democratic structures, build power among disenfranchised communities, and inspire confidence in a transformed political process that works for all.