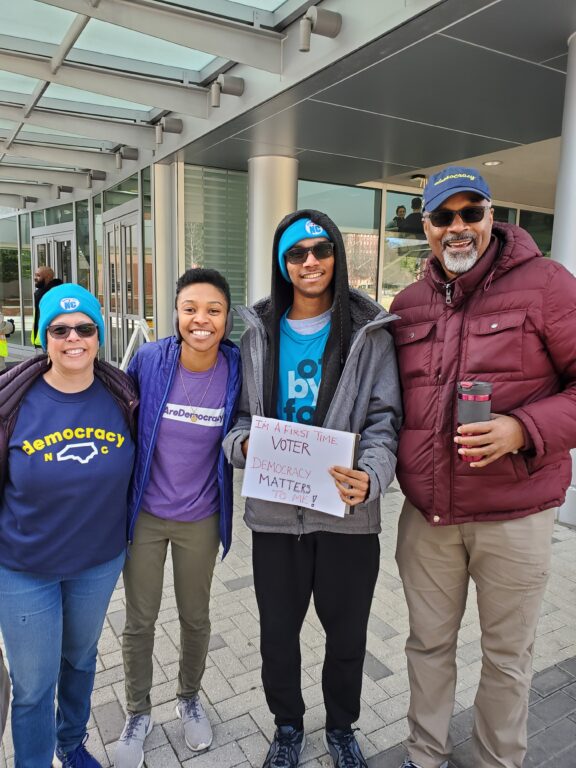 Adrienne Kelly
I am a Black woman raised by loving parents – a teacher & police officer – from Harlem, NY. They provided me an education and understanding of the opportunities and injustices in our country. They instilled in me the power of, and the responsibility to VOTE. Now, I am a mother of four and I have passed these gifts on to my children. As a family, we value the arts & education, which is why I volunteer on the boards of United Arts Council of Raleigh and Wake and Raleigh Little Theatre.
I've had a wide-ranging journey to Democracy NC. The running joke and a source of pride is that I have done 'everything from strategic planning to emptying the trash!' Before and after obtaining my MBA, I've worked in large technology firms and been a small business owner. I was a founding member of Great Schools in Wake in which we protested the elimination of diversity–a fundamental goal and value of the district–and advocated for increased teacher pay and counseling services for students. Ultimately, I chose to take my business skills to the non-profit arena, and have had the opportunity to improve our infrastructure here at Democracy NC.  As we have grown from 15 to 25 full-time staff members, I have enhanced employee benefits, expanded our financial reports for improved decision making, and implemented an office move. These improvements enable the organization to better meet our mission and programmatic goals.
I am constantly inspired by our impact on young people, in particular, college students in our Democracy Summer program. These students experience the full gamut of activism by communicating with legislators, contacting voters and nonvoters, and writing and speaking on equitable access to the electoral process. In a press conference at the NC General Assembly this summer, two of our 'friendterns', Kel Williams & Dmitri McKinney, spoke eloquently and passionately on the need to allow mail-in ballots to be counted during a grace period after the polls closed. I was in the crowd holding signage in support of this policy. I swelled with pride for the students' engagement, and with gratitude for Democracy NC creating space for all of us to speak truth to power.
Cheryl Carter
I am a mother of 3 – 2 young men and a daughter – an aunt, a great-aunt, daughter, sister, cousin, niece, doggie mom of a husky, and Gigi to my grand kitties. Family is the most important thing to me. Our home has always and continues to be where my children's friends, now young adults, love to gather for sleepovers, basketball, video games, movies or just hanging out. I love to cook for family and friends and have hosted the holiday feast for both Thanksgiving and Christmas for the past 20 years. When I'm not working, I love to garden, fish, and cheer along with college sports. Wa-hoo-wa!
I focus much of my efforts on dismantling anti-Blackness and oppressive systems, which is why outside of Democracy NC, I'm on the Advisory Board for Our Voices of Change, Oral History Project, and the Political Institute; an organization working with Black women and women of color to support political change.
I originally arrived at Democracy NC thanks to a voter registration drive in 2007. I was hooked! So I began to volunteer my spare time with Obama for America because my oldest son had a pre-existing condition and was denied health insurance. During my three weeks off from my teaching job at the time, I volunteered 8-12 hours a day. After the 2008 election, I became a Community Organizer and joined the healthcare fight in 2009. I held weekly phone banks at my home until the Affordable Health Care Act passed in 2010. I continued on at OFA organizing events around gun violence prevention, immigration reform, health care, women's rights, and climate change. In 2014, the Organizing Director position opened up here at Democracy NC, and I'm happy to say that I'm now in my 7th year on staff.
I've been most inspired recently by our Democracy Summer 2021 Legislative Lobby Day, where our friendterns held a virtual press conference. I was especially moved by moderator Kel Williams and speaker Brianna Martin, who spoke with a palpable passion against HB 805 and shared their lived experiences. This presser with their fellow friendterns, was the culmination of a summer of advocacy of elected officials and the public on why this bill would be devastating to Black and Brown communities. They exemplified how important it is to hold our elected officials accountable and provided a reflection as to why it's crucial that my leadership is a representation of the people, and encompasses our shared humanity.