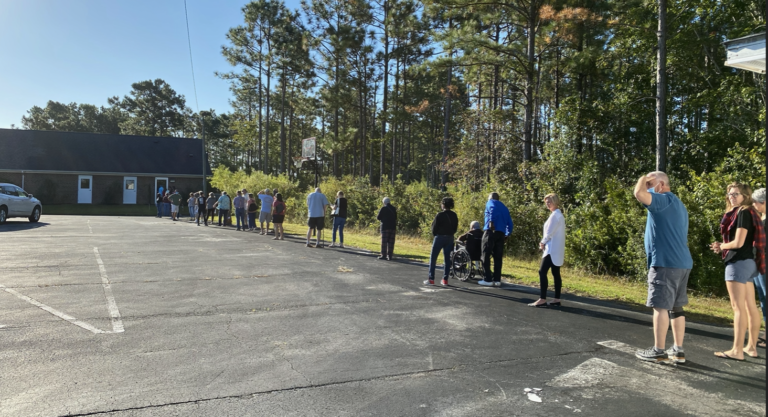 MORRISVILLE, N.C. (Oct. 15, 2020) —  North Carolina voters converged on county polls on Thursday for the kick off of in-person early voting. In total, over 330,000 votes were cast by day's end, greatly surpassing 2016's first-day turnout of 166,000 votes.
Democracy North Carolina, which hosts the state's nonpartisan voter assistance hotline 888-OUR-VOTE, received over 1100 calls the same day, mostly from voters wanting information about their county's early voting options and questions about how to use same-day registration, available only during early voting. The hotline is part of an election protection program that also includes deploying over 2000 voter assistance volunteers to polls during Early Voting and Election Day.
Long lines at curbside voting was also on people's minds, with 888-OUR-VOTE tackling voter concerns about four-hour or longer wait times at certain locations. Many voters opted to leave the polls, promising to return on a subsequent day during the state's 17-day in-person early voting period, now through October 31.
In New Hanover County for example, additional poll workers were quickly added to assist with the high volumes of curbside voting traffic as dozens of cars lined up outside of Wilmington polls. Additional measures were also being taken to keep polls supplied with single use items, adequate masks, and other precautionary sanitation equipment needed to keep the unprecedented number of voters safer amid the COVID-19 pandemic.
Democracy North Carolina's hotline volunteers also received a number of calls surrounding voter intimidation, including concerns about partisan electioneers being allowed inside the traditional 50-foot buffer zone outside of the polls. This zone, intended to make voters feel more comfortable by confining electioneering and issue advocacy to only designated areas around the polls, feels smaller to many voters desiring more physical distancing this year.