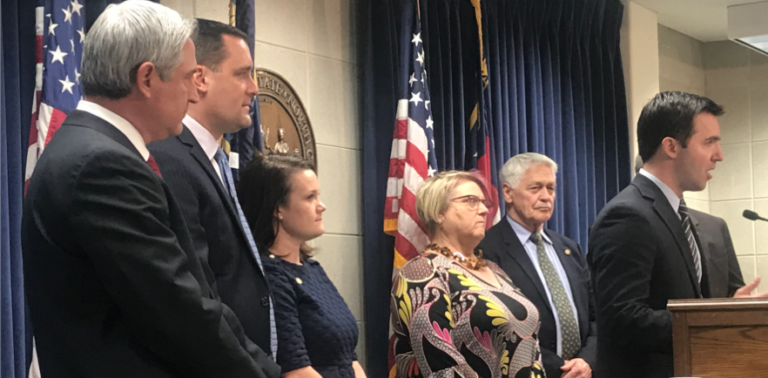 RALEIGH, N.C. — N.C. House and Senate lawmakers introduced a pair good government omnibus bills on Wednesday. The "Let NC Vote Act" and "Fix our Democracy" were introduced from a press conference at the N.C. General Assembly.
"Fix Our Democracy" co-sponsor Mecklenburg County Senator Jeff Jackson said the reforms in his bill, which seeks to end gerrymandering, modernize voter registration, and reform campaign finance laws, are "inevitable."
"I sincerely believe that all of this is inevitable. The only question is how long we are willing to delay fixing this mess," said Jackson.
Rep. Graig Meyer, who represents Caswell and Orange Counties, spoke to the House's "Let NC Vote Act." The proposal would provide for online voter registration and voter registration on election day, expand options for getting a photo ID to vote, and encourage a more robust effort to pre-register high school students. The legislation would also restore the popular last Saturday of Early Voting, which was stripped by legislative leaders (and later restored only for 2018) in Senate Bill 325.
"We wanted to put forward a proposal that said every North Carolinian who is eligible to vote would be able to vote," said Meyer.
In response, Democracy North Carolina Executive Director Tomas Lopez released the following statement praising the "positive proposals" as deserving of "a chance to be heard."
"Today's slate of election reform bills represents several of many positive proposals introduced during North Carolina's 2019 legislative long session. Their goals — end gerrymandering, support fair courts, modernize voter registration, reform campaign finance laws, and provide more legislative transparency — reflect lawmakers', and their constituents', growing appetite for a system that puts people before parties," said Lopez. "After another year in which North Carolina voters witnessed extended legal battles over voting maps, cuts to popular early voting options, and a confusing back and forth on the practicality and legality of the state's voter ID law, these bills offer a welcome reprieve for voters eager to move beyond the partisanship of the past and more easily make their voices heard at the polls."
Added Lopez, "Like the voters they serve, these bills deserve a chance to be heard."
The "Let NC Vote Act" and "Fix our Democracy" omnibus legislation are two of over 40 election-related bills introduced since January as part of the 2019 legislative long session.