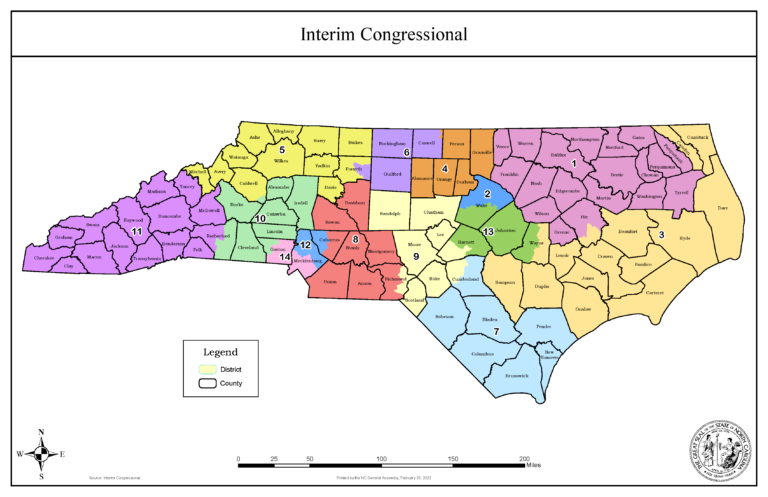 MORRISVILLE, N.C. (2/24/2022) – On February 23, 2022, state House and Senate maps drawn by the North Carolina General Assembly, and a special expert-drawn Congressional map, were unanimously adopted by the Wake County Superior Court. After the three-judge panel accepted the remedial plans, multiple appeals were submitted by all parties. Late in the night, a final N.C. Supreme Court ruling made all three maps official voting maps for the 2022 elections. Candidate filing begins today and runs until March 4, 2022. The state primary also secures the date of May 17, 2022. 
Democracy North Carolina has long fought for fair maps and applauds the N.C. Supreme Court's decision to reject the legislature-proposed Congressional gerrymanders, instead accepting a map drawn by outside experts. Unfortunately, the state Senate map submitted by the NCGA fails to include a racially polarized voting analysis and flagrantly ignores established state law.
Cheryl Carter, Interim Co-Executive Director of Democracy NC, comments on what the final 2022 maps mean for all voters, including Black, Latiné, and Indigenous communities who continue to be targets of extreme partisan and racial gerrymandering, year after year.
"The General Assembly's state Senate map relies on misleading and skewed data, contradicting clear guidelines from the N.C. Supreme Court to conduct a district-specific racially polarized voting analysis. Instead, lawmakers decided to pack Black voters into a single Northeastern district to dilute Black voting power, stripping away the ability to elect candidates of their choices in other districts.
Racial gerrymandering continues to harm Black, Latiné, and Indigenous voters who have the fundamental right to participate in free and fair elections, including choosing their elected leaders and not the other way around. Whether it is voter intimidation, election sabotage, disinformation, or extreme gerrymanders, power-hungry politicians continue to ignore the will of the people.
We remain steadfast in our mission to preserve democracy and now look ahead to the state primary and General Election."
###
Democracy North Carolina is a statewide nonpartisan organization that strengthens democratic structures, builds power among disenfranchised communities, and inspires confidence in a transformed political process that works for all.