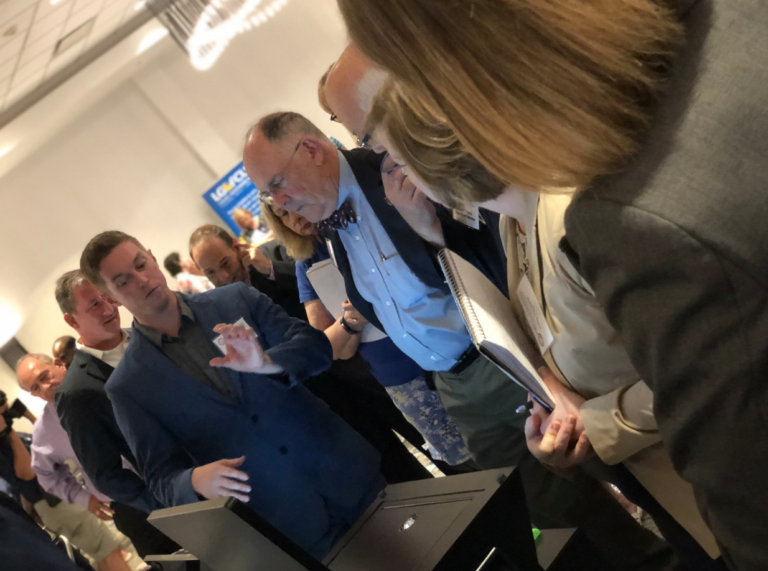 On July 28, 2019, equipment vendors describe voting machines to State Board members and officials (photo: Democracy NC).
Monday, July 29, at 7 p.m., the N.C. State Board of Elections will meet to vote on the equipment available to counties to purchase and use in future elections — potentially including 2020.
With that vote, they'll decide which voting machines to certify and free county election officials to buy new equipment. Portions of some of the systems under consideration raise concerns about security and transparency. Specifically, while a new generation of touch-screen machines known as ballot-marking devices (BMDs) improve on the touchscreen systems currently used in parts of North Carolina, advocates are concerned that these machines raise a new set of security and usability challenges.
During the State Board's Sunday night meeting, Democracy North Carolina's Tomas Lopez was one of 15 speakers allowed to provide public comment. Lopez urged the State Board to to limit touchscreen BMDs for use with voters with accessibility needs and certify only those machines that tabulate hand-marked ballots — the sort of system used in much of the state. He also strongly encouraged the State Board to provide additional clarity on underlying technical issues like what precisely is being certified, the different components or devices that exist as a part of a given product line, and the distinctions between how the various BMD systems will actually be used by voters.
The State Board delayed a vote Sunday to help determine what voting equipment North Carolinians use in future elections, deciding to wait until Monday evening so that the full board could be there for the decision.