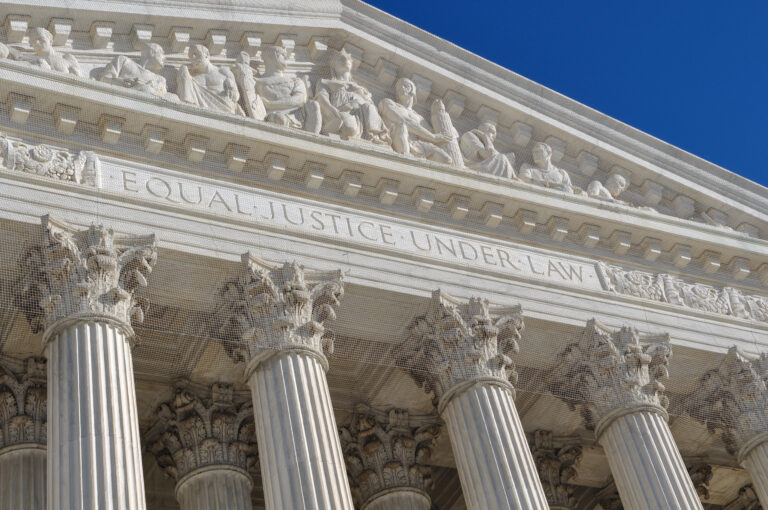 MORRISVILLE, NC (06/12/2023) — On Thursday, the U.S. Supreme Court affirmed an Alabama district court's ruling that the state's congressional map drawn in 2021 violates the Voting Rights Act by "packing and cracking" Black communities, resulting in diluted political power. In so doing, the Court rejected Alabama's purported "race-neutral" approach to Section 2 litigation and reaffirmed that race can, and indeed must, be considered in drawing remedial districts when doing so is necessary to ensure voters of color are not denied an equal opportunity to participate in the electoral process.
This redistricting cycle was the first since the U.S. Supreme Court gutted federal oversight, or preclearance, in Shelby County v Holder, meaning it was much easier for hostile state governments to pass racially discriminatory maps. This decision does not undo the damage caused by Shelby County. It does send a clear message to state and local lawmakers that Section 2 of the Voting Rights Act is intact and that, under the law, they must ensure that voters of color are not denied a fair opportunity to participate in the electoral process.
Democracy North Carolina, a statewide voter advocacy group, has long fought for fair maps across the state, championing pro-voter policies such as Senate Bill 306 (Fix Our Democracy), House Bill 293 (Freedom to Vote), and House Bill 9 (Fair Maps Act), all of which would dramatically overhaul our redistricting processes. HB 9 would also create a Community Redistricting Commission made up of everyday North Carolinians tasked with drawing the state's legislative and Congressional voting districts.
"This is one of our generation's most important civil rights decisions. It's a historic victory for voters and Black communities across the country reaffirming key protections established by Congress in the Voting Rights Act during a time of countless attacks on voter freedoms," said Cheryl Carter, Co-Executive Director for Democracy NC.
"Unfair mapping and gerrymandering weaken community power by denying certain groups the ability to choose a candidate of their choice to fight for the needs of the community. This directly affects the resources a county or city receives, from health care to education and everything in between, which affects the quality of life for all.
Voter freedoms are under attack at all angles – voter ID laws, drastic budget cuts, polling site closures, election denial, and many more restrictive policies disproportionately burden voters of color, voters with disabilities and elderly voters, voters whose first language is not English, and low-resource voters, among others.
We applaud this decision from the U.S. Supreme Court, who sent a clear message not just to Alabama's legislature but to all lawmakers currently attempting to silence Black voters with racially discriminatory maps."
###
Democracy North Carolina is a statewide nonpartisan organization that uses research, organizing, and advocacy to strengthen democratic structures, build power among disenfranchised communities, and inspire confidence in a transformed political process that works for all.