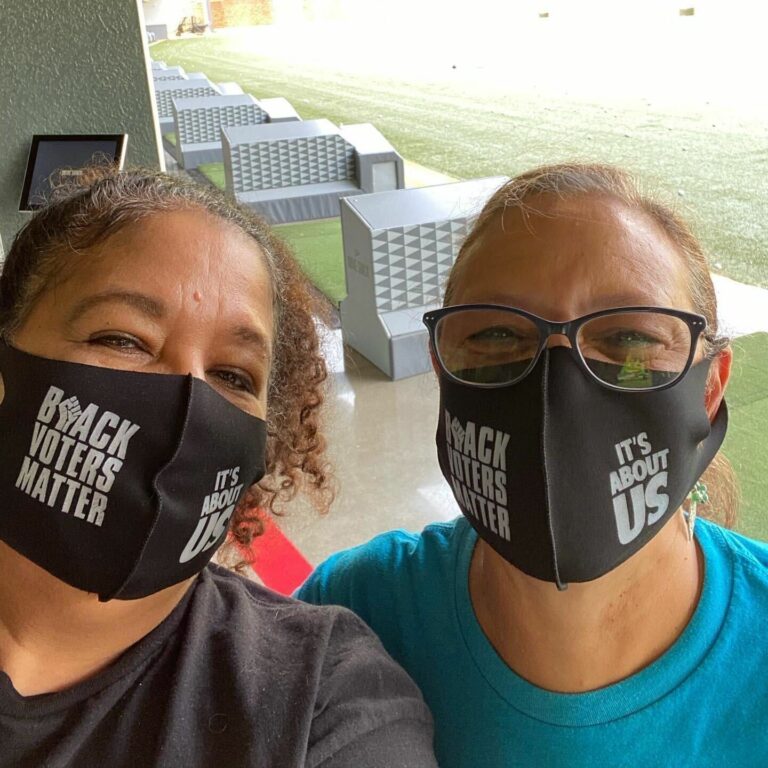 MORRISVILLE, N.C. (6/1/2022) – Democracy North Carolina's Board of Directors today announced that Cheryl Carter and Adrienne Kelly have been named the new Co-Executive Directors of the organization.
Carter and Kelly were selected unanimously by Democracy North Carolina's Board of Directors after a nationwide executive search was led by Nonprofit HR, an established talent acquisition firm. Carter and Kelly have been leading the statewide voting rights organization as Interim Co-Executive Directors since August 2021, following the departure of Executive Director Tomas Lopez, with their official tenure beginning on May 16, 2022.
"Our new Co-Executive Director leadership structure, shared by two remarkable individuals, reflects the growth and promise of Democracy North Carolina today and moving forward, keeping the organization grounded in democratic practices and principles," said Randy Lucas, Board of Directors Chairperson. "Cheryl and Adrienne will lead Democracy NC into its next legendary stage in the fight for democracy with vision, compassion, and insight, while rooting our organization in transformative values of equity and inclusivity. I am grateful to Cheryl and Adrienne for their commitment to take on these roles in this transformative moment for the organization, state, and nation."
In a historic moment for Democracy North Carolina, Carter and Kelly will be the first Black Indigenous and Black Executive Directors, respectively, as well as the first women to lead the organization in its 30 year history.
"Leading with love and standing on the shoulders of my ancestors, I am very honored and humbled by this opportunity to further the work and legacy of Democracy NC and move us forward into our next chapter," Carter said.
"With ever-growing challenges impeding democracy, I look forward to leading our talented staff in our fight to increase voter access and hold those in power accountable for securing safe elections in our state," Kelly said.
Carter has worked as the organization's Organizing Director since 2014 and Kelly has been the Operations Director since 2018. In her years with the organization, Carter helped transform the groundbreaking Democracy Summer program, now in its 23rd year, and brought grassroots community organizing and relationship-building to the forefront of the organization's advocacy for change in structural democracy. Meanwhile, Kelly helped grow the organization from a staff of 15 to nearly 30 and spearheaded improvements in the organization's infrastructure, human resource policies, and financial systems, allowing for better decision-making so Democracy North Carolina could more easily meet its mission and programmatic goals.
BIOGRAPHIES
Cheryl Carter has been Democracy NC's Organizing Director since 2014 and has spent nearly 30 years in the organizing and activism world, advocating for racial justice and the dismantling of oppressive systems that impede collective liberation. Prior to joining Democracy NC, Cheryl taught in the public school system and worked in human services, where she saw the plight of those who were disenfranchised and committed her career to advocating for and working alongside marginalized people. She ascended through the ranks at Organizing for America/Action, starting as a volunteer and moving up to State Coordinator, where she led staff and volunteers across North Carolina. Cheryl's contributions furthered OFA's efforts in health care, gun violence prevention, immigration reform, climate change, women's rights, minimum wage, and Medicaid expansion. Cheryl has worked with The Women's Center in Raleigh, Southern Wake Concerned Citizens, and the NC Association of Educators, and is currently on the NCVCE and Our Voices of Change boards. Cheryl is a mother of three amazing humans and is a proud alumna of the University of Virginia, holding a BA in Sociology.
Adrienne Kelly has been Democracy NC's Operations Director since 2018. Adrienne entered the non-profit sector after working for IBM and Hewlett-Packard companies, and then owning a telecommunications business for two decades. Prior to her current position, she was Chief Operations Officer for an education non-profit and has volunteered in numerous capacities for Wake County public schools as an advocate for public education. A long-time supporter of the arts, she has served as a volunteer and board member for United Arts Council of Raleigh and Wake County and for Raleigh Little Theatre. Active in grassroots organizations, Adrienne has been a defender of voter education and advocacy, women's rights, and other issues that impact disenfranchised populations. She has been recognized by the National Association of Women Business Owners, Greater Raleigh Chamber, YWCA Academy of Women, Wesleyan University,  and others for her leadership, advocacy and community service. Adrienne has a BA from Wesleyan University (CT) and an MBA from Harvard University (MA).
 ###
Democracy North Carolina is a nonpartisan organization that uses research, organizing, and advocacy to strengthen democratic structures, build power among disenfranchised communities, and inspire confidence in a transformed political process that works for all.