Join us for our Charlotte #FairMapsNC Redistricting Canvass on Sunday, July 23rd at 2pm at Latta Park.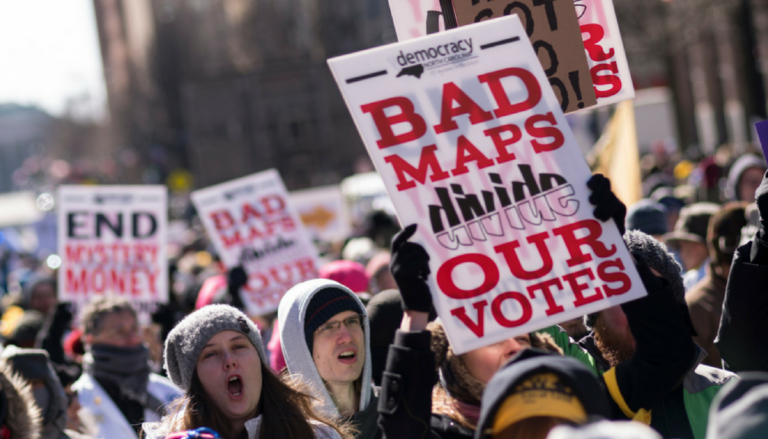 Democracy North Carolina has been fighting for fair representation since we started 25 years ago! We know that politicians draw lines to dilute the power of Black and Brown voters. Join us on our field campaign to take our message house to house, phone to phone. Thanks to YOUR hard work, redistrcting will be an election issue in 2018!
We will show our legislators that their consitutents want fair maps. Our hashtag is #FairMapsNC and #WeAreDemocracy
Here is our schedule for the day:
2:00 – 3:00 PM – Canvass and Redistricting Training (Snacks and Water Provided)
3:00 – 6:00 PM – Canvass in pairs (Bring a friend! If you don't, we will pair you up.  No worries!)
6:00 – 6:30 PM – Material Turn-in and Debrief
Don't forget to take care of yourself as needed (bathroom, sunscreen, etc.). We will have water. It may be a good idea to have a small bag to carry sunscreen and water because your hands will be full with a clipboard and materials. Wear comfortable shoes/clothes and DON'T FORGET: No partisan gear!
WHAT: Charlotte #FairMapsNC Redistricting Canvass
WHEN: Sunday, July 23, 2017 at 2:00 – 6:30 PM
WHERE: Latta Park (601 East Park Ave., Charlotte 28203)
Please RSVP below to let us know you're coming (we need an accurate count so we have the right number of lists!).
If you have questions, you can contact Mel Hartsell at (980) 230-8961 or mel@democracy-nc.org.