NOTE: Visit demnc.co/canvass to learn more about the "Day of Canvass" and how you can help monitor the process.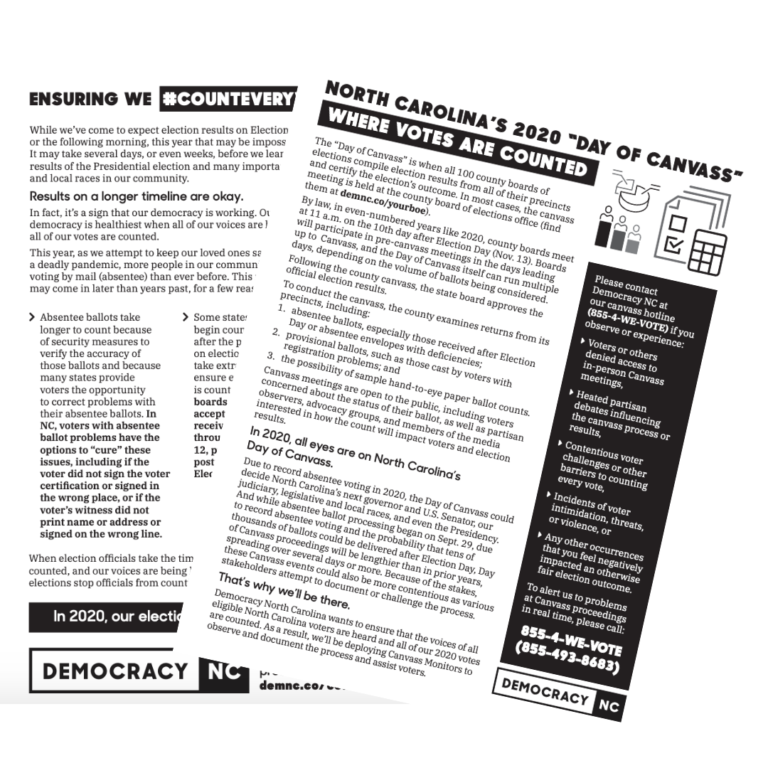 The "Day of Canvass" is when all 100 county boards of elections compile election results from all of their precincts and certify the election's outcome. In most cases, the canvass meeting is held at the county board of elections office (find them at demnc.co/yourboe).
By law, in even-numbered years like 2020, county boards meet at 11 a.m. on the 10th day after Election Day (Nov. 13). Boards will participate in pre-canvass meetings in the days leading up to Canvass, and the Day of Canvass itself can run multiple days, depending on the volume of ballots being considered. Following the county canvass, the state board approves the offi cial election results.
To conduct the canvass, the county examines returns from its precincts, including:
1. absentee ballots, especially those received after Election Day or absentee envelopes with deficiencies;
2. provisional ballots, such as those cast by voters with registration problems; and
3. the possibility of sample hand-to-eye paper ballot counts.
Canvass meetings are open to the public, including voters concerned about the status of their ballot, as well as partisan observers, advocacy groups, and members of the media interested in how the count will impact voters and election results.
In 2020, all eyes are on North Carolina's Day of Canvass.
Due to record absentee voting in 2020, the Day of Canvass could decide North Carolina's next governor and U.S. Senator, our judiciary, legislative and local races, and even the Presidency. And while absentee ballot processing began on Sept. 29, due to record absentee voting and the probability that tens of thousands of ballots could be delivered after Election Day, Day of Canvass proceedings will be lengthier than in prior years, spreading over several days or more.
Because of the stakes, these Canvass events could also be more contentious as various stakeholders attempt to document or challenge the process.
Democracy North Carolina wants to ensure that the voices of all eligible North Carolina voters are heard and all of our 2020 votes are counted. As a result, we'll be deploying Canvass Monitors to observe and document the process and assist voters.
Please contact Democracy NC at our canvass hotline (855-4-WE-VOTE) if you observe or experience:
Voters or others denied access to in-person Canvass meetings,
Heated partisan debates influencing the canvass process or results,
Contentious voter challenges or other barriers to counting every vote,
Incidents of voter intimidation, threats, or violence, or
Any other occurrences that you feel negatively impacted an otherwise fair election outcome.
To alert us to problems at Canvass proceedings in real time, please call: 855-4-WE-VOTE (855-493-8683)