This 2020 guide to Early Voting advocacy will help you win the hours and sites that your county needs to host safe and secure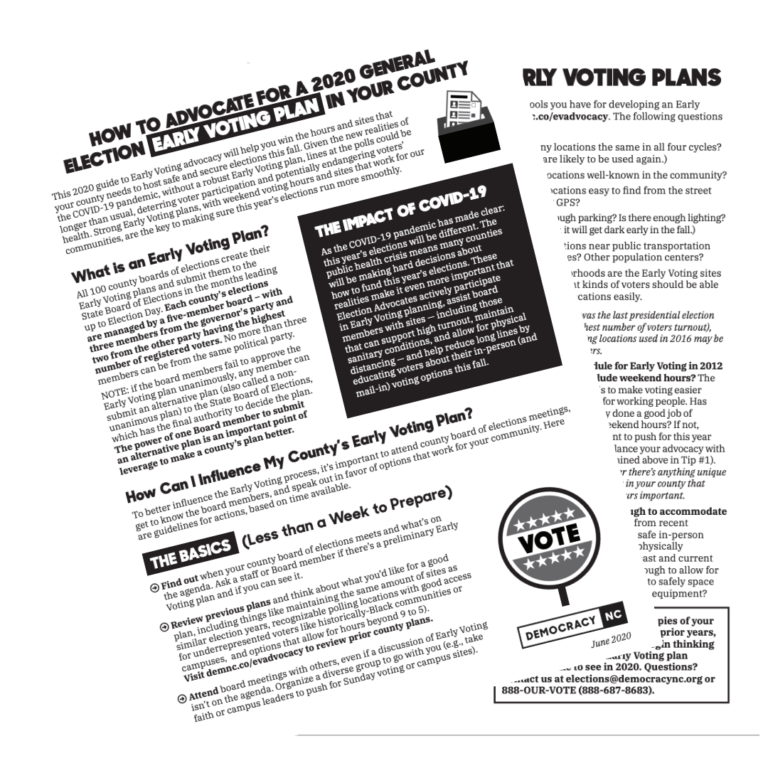 elections this fall. Given the new realities of the COVID-19 pandemic, without a robust Early Voting plan, lines at the polls could be longer than usual, deterring voter participation and potentially endangering voters' health. Strong Early Voting plans, with weekend voting hours and sites that work for our communities, are the key to making sure this year's elections run more smoothly.
What is an Early Voting Plan?
All 100 county boards of elections create their Early Voting plans and submit them to the State Board of Elections in the months leading up to Election Day. Each county's elections are managed by a five-member board – with three members from the governor's party and two from the other party having the highest number of registered voters. No more than three members can be from the same political party. NOTE: if the board members fail to approve the Early Voting plan unanimously, any member can submit an alternative plan (also called a non-unanimous plan) to the State Board of Elections, which has the final authority to decide the plan. The power of one Board member to submit an alternative plan is an important point of leverage to make a county's plan better.
How Can I Influence My County's Early Voting Plan?
To better influence the Early Voting process, it's important to attend county board of elections meetings, get to know the board members, and speak out in favor of options that work for your community. Here are guidelines for actions, based on time available.